Case Studies
KYOWA KOGYO CO.,LTD
Production Control Department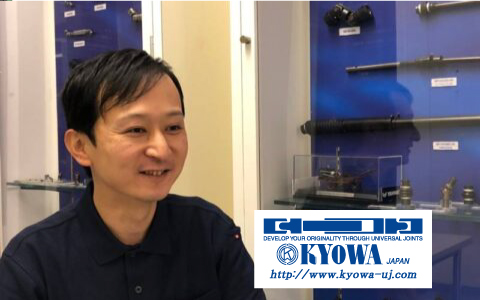 導入前の課題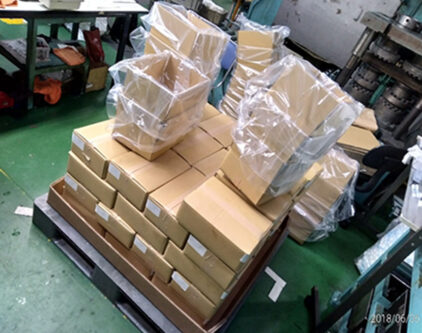 -High labor costs
The conventional packaging method used reinforced cardboard for outer package and subdivided inner cartons.
Everything from carton assembly to product packing, reinforced cardboard assembly, and palletizing was done manually, and labor costs were a heavy burden.
-Inefficient operation
Due to the limited space in the factory, the flow lines in the factory were complicated and efficiency was low.
Solutions of HACO Lab.
1. Propose of made of steel Returnable Transport Item
We offered a suggestion to shift steel Returnable Transport Items to use form domestic factory to overseas instead of the one-way packaging materials.
We aimed to reduce man-hours due to manual work, reduce material costs, and be environmentally friendly.
2. Consultation to reduce logistics costs
We made highly convincing proposals by conducting cost simulations with various requirements and work patterns.
3. Introduce the managemet system by RFID
We also offered to the introduction of system management by RFID about that Returnable Transport Item.
Kyowa Kogyo is promoting the introduction of IT and DX in the factory, and the decisive factor for adoption was the "visualization" and "automatic management" of the container management system using RFID.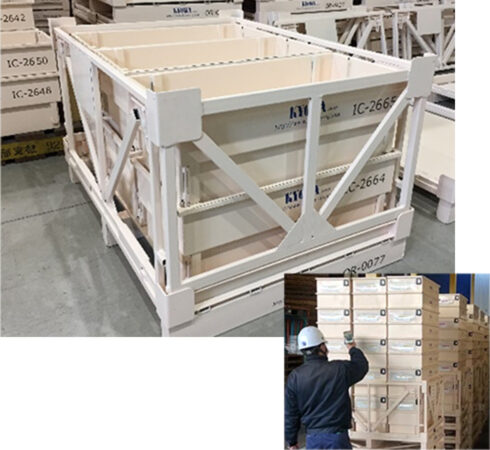 Effects after introduction
-The work efficient improvement
Kyowa Kogyo were able to reconsider our process itself and improve bottleneck process.
They achieve improve their work efficient due to no stagnant products and shorten process time.
By reducing manual packing work, they were able to eliminate night shifts and reduce overtime. Futhermore, they could reduce the space for packaging work.
In the end, they were able to change the factory layout so that the work process could flow smoothly.
-Reduction of logistics costs and CO2 emissions
Kyowa Kogyo expects to reduce the logistics costs by approximately 60 million yen by switching from one-way packaging materials to highly durable steel Returnable Transport Items.
Also, it will be possible to continue using them for 10 years and improve the environment than before.